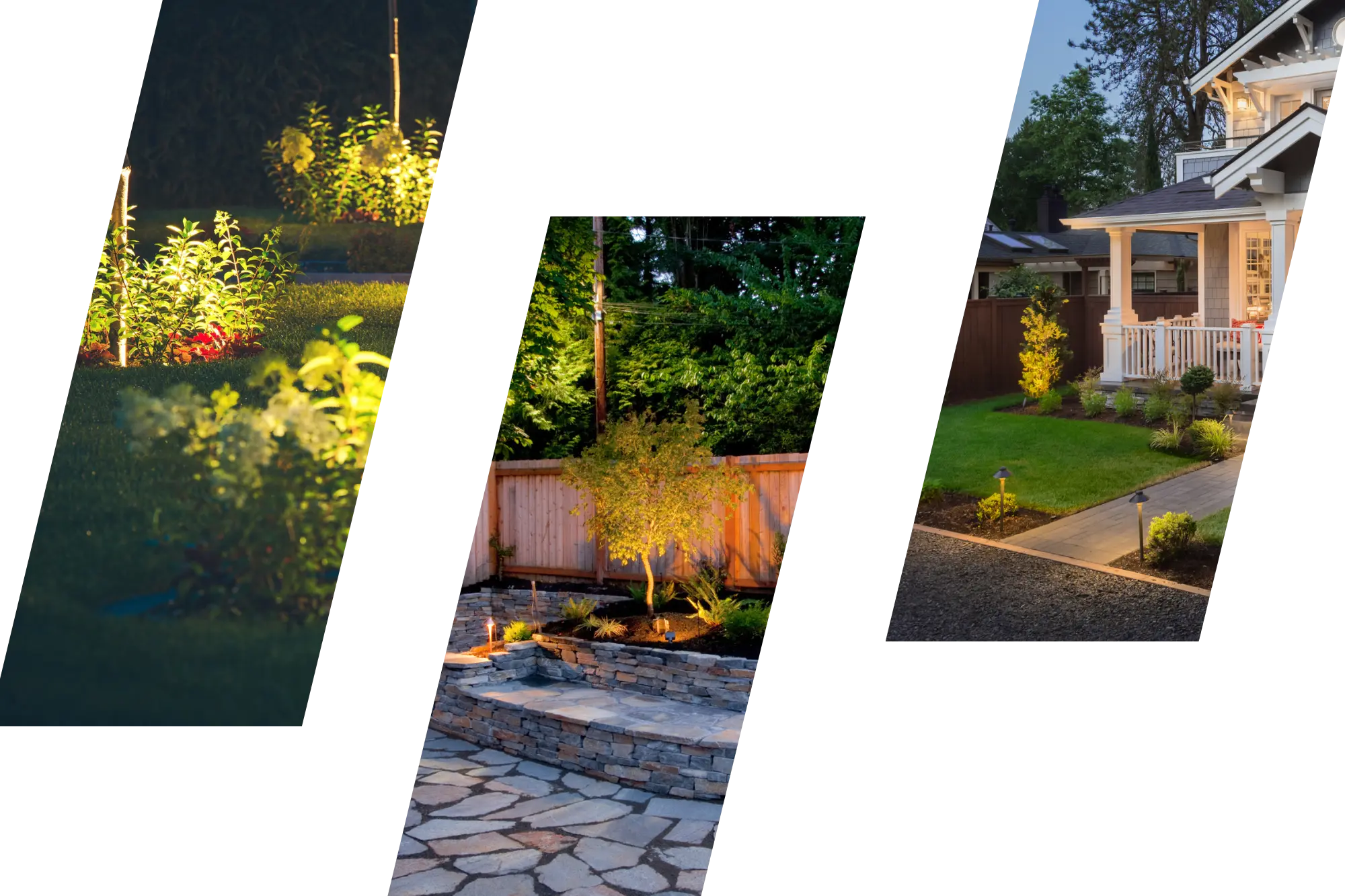 Landscape lighting is the best way to add beauty. It creates a mysterious atmosphere and makes you feel like you're in a movie. Well-placed lighting may transform your outside space into a dreamlike scene, perfect for socializing and alone time.
Landscape lighting illuminates paths and highlights trees, plants, and walls at night, increasing safety. This plant's shadows and patterns will make your garden even more beautiful at night.
If you need high-quality landscape lighting installation, repair, or maintenance, call Palmetto Outdoor Lighting. You're covered! Our expert technicians will meet all your landscape lighting needs and exceed your expectations. We provide various lighting systems, from LED fixtures to solar-powered devices.
Call us immediately to learn about landscape lighting's many benefits for your backyard or other outdoor space. Our friendly staff is ready to answer your questions. Palmetto Outdoor Lighting will transform your view of nature.
Different Types of Landscape Lighting
Whether for domestic or commercial use, the landscape lighting that our company provides is of the highest possible quality. You can rely on our installation, repair, and maintenance services, giving you the freedom to choose the lighting that will make your garden seem its best.
Palmetto Outdoor Lighting offers all of these lighting solutions and many more, so please feel free to contact us if you need assistance determining the most suitable one.
Give our experts a call when you need their help! Get in touch with us immediately, and let's get started on designing the ideal landscape lighting scheme for your backyard or another outside area.
Solar Lights
During the day, these lights use photovoltaic cells to turn sunlight into electricity, which is then used to power the LED lamps at night. The fact that it does not require electrical wires makes it an excellent method for conserving energy and is also very simple to set up.
LED Lights
LED lights provide powerful illumination with a comparatively low amount of wasted energy. It comes in various forms and dimensions, giving you greater design versatility when working with your outside space.
These lights are used to line walkways to make it easier to navigate when it is dark outside. They are available in various styles, and the bulbs they utilize are often low-voltage, which enables them to save more energy than other types of lighting.
Accent Lights
Accent lighting, also known as highlighting, draws attention to objects by directing light directly onto those objects. Dramatic effects can be achieved inside and outside of the home by using accent lighting to highlight specific areas, such as an entrance, or to produce other desired visual results.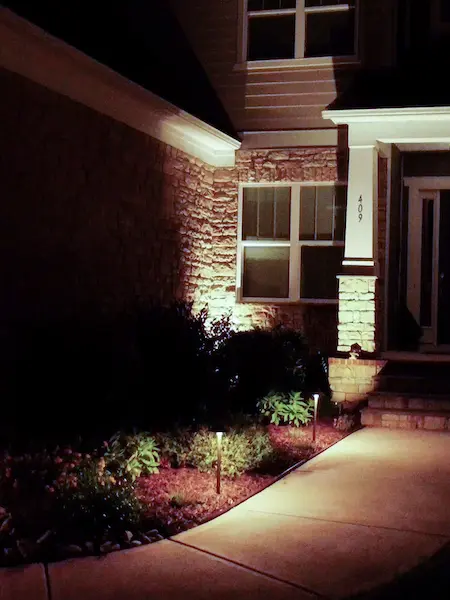 Benefits of Landscape Lighting
Landscape lighting offers several benefits, both aesthetic and practical, for outdoor spaces. 
Here are some key advantages of landscape lighting:
Enhanced Beauty:

One of the primary benefits of landscape lighting is that it enhances the visual appeal of your outdoor area. By strategically illuminating trees, plants, architectural features, and focal points, landscape lighting creates a captivating atmosphere and adds a touch of elegance to your landscape. It can transform a dull or ordinary space into a stunning nighttime showcase.

Increased Safety

: Properly placed landscape lighting significantly improves safety in outdoor areas. Path, deck, and step lights illuminate pathways, stairs, and potential hazards, reducing the risk of accidents and falls. Well-lit outdoor spaces also deter intruders and make it easier for residents and visitors to navigate the property at night.

Extended Outdoor Living:

Landscape lighting lets you make the most of your outdoor spaces, even after dark. You can create inviting and functional areas for entertaining, dining, or relaxation with well-designed lighting. It extends the usability of patios, decks, and gardens, enabling you to enjoy your outdoor environment during evening hours.

Increased Security:

Adequate lighting around your property's exterior is a deterrent to potential burglars or trespassers. Illuminated areas make it more difficult for unauthorized individuals to approach undetected. Motion sensor lights can be particularly effective in detecting movement and alerting homeowners to any unusual activity.

Accentuation of Landscape Features:

By using different lighting techniques, such as spotlights or up lights, you can highlight specific landscape features like trees, shrubs, water features, or architectural elements. This adds depth, drama, and visual interest to your outdoor space, making it more dynamic and visually appealing.

Improved Property Value:

Well-designed landscape lighting can significantly enhance the value of your property. A beautifully illuminated exterior creates a positive first impression, increases curb appeal, and makes your property stand out. It can be a selling point when showcasing your home to potential buyers or renters.

Increased Functionality:

Landscape lighting extends the functionality of your outdoor areas. Proper illumination enables you to do activities such as cooking, gardening, or reading outside, even when natural light is limited. It allows you to enjoy your outdoor spaces for various purposes, expanding their usability.

Mood and Ambiance:

The right lighting design can create a desired mood and ambiance in your outdoor space. Whether you prefer a peaceful and intimate setting or a vibrant and festive atmosphere, landscape lighting offers flexibility in setting the tone and mood for different occasions and personal preferences.
When planning landscape lighting, it's important to consider energy efficiency, appropriate lighting levels, and overall design aesthetics to achieve the desired effects while minimizing light pollution and energy consumption.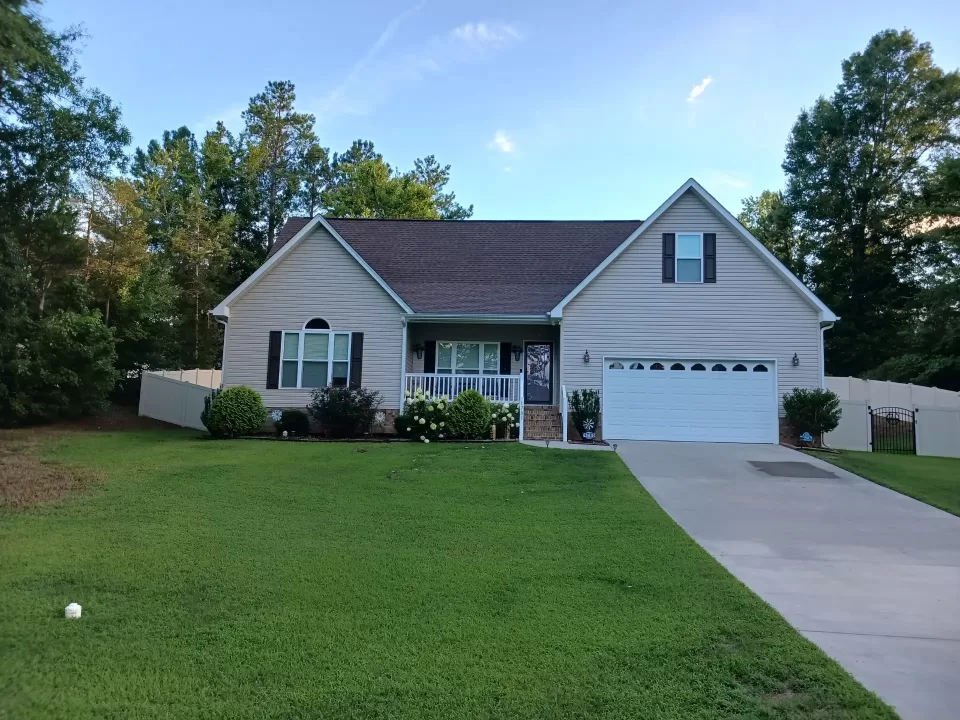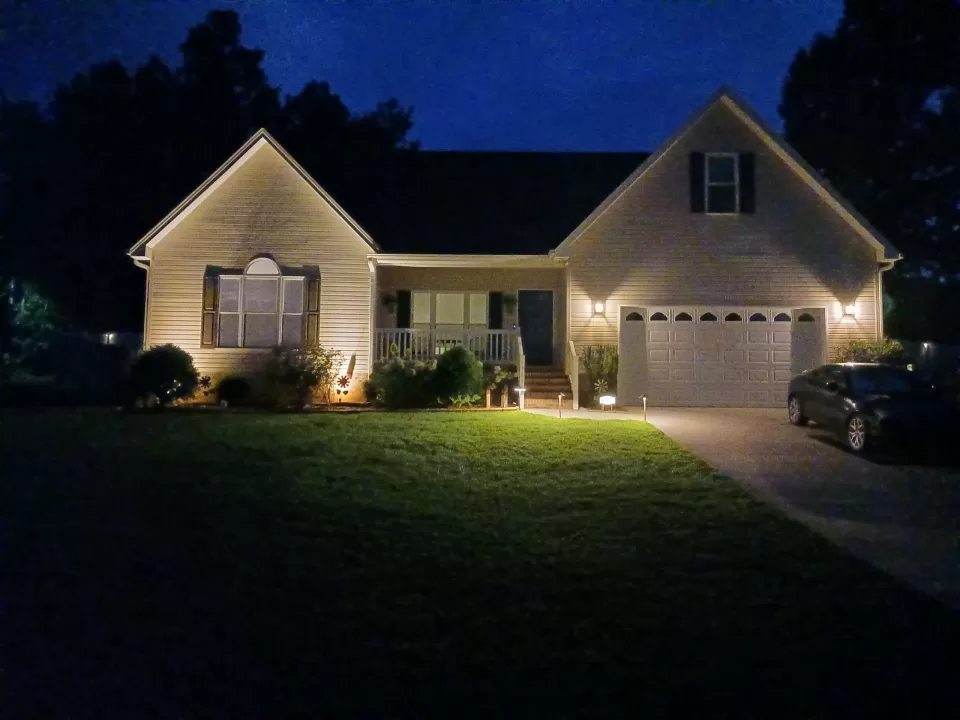 Hover/Touch to View at Night
How Many Lumens Per Acre?
The amount of lumens per acre in landscape lighting really depends on the size of the property and the desired effect you're looking to create. Generally speaking, when it comes to outdoor lighting for residential properties, a minimum of about 350 lumens peracre is recommended. This number can increase significantly depending on a few factors such as what type of lighting fixtures you're using, how much landscaping you have, and how high up off the ground your lights are set at.
Low voltage LED bulbs typically range from 50-400+ lumens per unit making them great for illuminating large areas without becoming overwhelming or too bright. If you're not sure what type of lights will work best for your project size and aesthetic preferences, it's always best to consult with a certified electrician or licensed contractor who specializes in outdoor lighting installation.
If you're looking to fill an area with widespread ambient light that has more focus around walkways or entries into your yard then larger wattage halogen bulbs may be better suited due to their higher lumen output (upwards of 900). A good rule of thumb is that 1 watt equals 10-15 lumens so if you multiplied those 900 lumens by 10 watts then that line would emit roughly 9000 total lumens which should be sufficient enough to light up any area regardless of its acreage size.
Overall though, the number lumen needed per acre generally varies based on several factors mentioned above but most professional electricians recommend starting off with at least 350 lumens/acre as a baseline measurement for low voltage LED fixtures while halogen fixtures typically require at least 500 lumen/acre just to easily illuminate larger residential yards appropriately; though slightly higher amounts may be required depending upon each individual situation or scenario.
What to Look for in Landscape Lighting
When it comes to landscape lighting, the possibilities are nearly endless. From spotlights and floodlights to wall washers and down lights, there are a multitude of options available when it comes to illuminating your outdoor area. It's important to consider all factors before deciding on an outdoor lighting solution for your home or commercial property.
Here are some of the key features to look for when choosing landscape lighting:
Brightness: The brightness of an outdoor light is measured in lumens, which is a measure of how much light the fixture emits. You'll want to pick lights that are bright enough to provide visibility and safety while keeping energy costs low.
Durability: Outdoor lights are exposed to rain, snow, and the elements year-round. It's important to choose fixtures that can stand up to harsh weather conditions without corroding or fading. Look for lights with high-grade materials like stainless steel, aluminum, and corrosion-resistant plastics to ensure outdoor lighting that lasts for years.
Control: Many outdoor lights come with remote control options so you can easily adjust the brightness and turn lights on and off from anywhere. Smart lighting systems can be programmed with timers, sensors, or voice commands for even greater control.
Style: Of course, the look of your landscape lighting should also be taken into consideration. Choose fixtures that complement the design of your home or business so it looks like an integrated part of the landscape. You'll want to ensure that the fixtures don't appear too overwhelming or clash with your existing architecture.
Safety: Last but not least, you'll want to make sure that your outdoor lights are safe for use around the home or business. Look for lights that are certified to UL or CSA standards and have an IP rating of at least 54 for outdoor lighting that's built to last.
With these features in mind, you can easily find the perfect landscape lighting system for your home or business. From energy-efficient fixtures to smart controls, there are a variety of options available to create beautiful and functional outdoor lighting.
Reach Out to Us!
Palmetto Outdoor Lighting has been delivering high-caliber services in landscape lighting for many years, and they can promise that all of your requirements will be satisfied.
Our team is standing by to offer you specialized guidance and assistance in turning your aspiration into a reality as soon as you contact us. Call us immediately so we can get started on planning the ideal landscape lighting plan for your outside area.