Pool Lighting in Charlotte, NC
Adding lighting to your pool can be a great way to keep the fun going after the sun goes down. There are many different types of lighting available for pools in Charlotte, NC, and each has its own unique advantages.
Benefits of Pool Lighting
Increases Safety

: By adding lights to your pool, you can easily spot any hazards and help prevent accidental injuries after dark.

Enhances Style

: Pool lighting can add a unique flair to your pool, making it an attractive addition to your backyard oasis.

Reduces Energy Cost:

LED lights use very little energy and can last for years, making them a cost-effective way to light up your pool all night.

Improves Mood:

With bright and colorful lighting, you can easily set the mood and create an enjoyable atmosphere for swimming or just relaxing in the water.

Enhances Cleanliness:

Pool lights can keep your pool free from debris and dirt, making it easier to maintain and keeping the water clean.

Promotes Wildlife:

Bright lights are known to attract frogs, fish, birds and other animals into your yard – adding a unique touch to your outdoor living space.

Creates Ambience:

Pool lighting is one of the most effective ways to create a tranquil and relaxing atmosphere in your outdoor space.

Increases Security:

Light up your pool area with motion lights to deter intruders and keep your family safe at all times.

Reduces Maintenance Time:

With LED lighting, you don't have to worry about changing bulbs or replacing the wiring as often as traditional lights. This can save you time and money in the long run.

Improves Entertainment

: Illuminate your entire pool area with lights to create a unique and memorable experience for you and your guests when hosting outdoor events.

Extends Pool Use

: Enjoy being able to use your pool even when the sun has set by adding lights to make it safer and more enjoyable at night.
Types of Pool Lighting
There are many different types of pool lighting available today, and the type that you choose will depend on the look and feel you're trying to create with your pool. Here's a rundown of some of the most popular options:
LED Lights

– LED lights are an increasingly popular choice for pools due to their energy efficiency and low maintenance requirements. They come in a wide range of colors and can be used to create stunning effects.

Fiber Optic Lighting

– Fiber optic lighting is great for adding a touch of glamor to your pool. These lights are brighter and sharper than LED lights, so they're perfect for creating dramatic effects. They're also very energy efficient and low maintenance, making them a great choice for pools.

Halogen Lighting

– Halogen lighting has been used to light swimming pools for decades, and thanks to its high brightness levels, it's still a popular choice today. It's not as energy efficient as LED or fiber optic lighting, but it does have the advantage of being relatively inexpensive.

Submersible Lights

– Submersible lights are great for creating a unique look in your pool. These lights sit underwater and can be used to create beautiful lighting effects. They're also easy to install, so they're perfect for pools of all sizes.

Underwater Spotlights

– Underwater spotlights are the perfect way to light up specific areas of your pool. These spotlights can be used to highlight special features , such as statues or waterfalls, and they create a more dramatic effect than other types of pool lighting.
No matter which type of lighting you choose for your pool, be sure to check with a professional first to make sure it meets all safety requirements.
Best Pool Lighting
Are you looking for the best pool lighting contractor in Charlotte, NC? Look no further than Palmetto Outdoor Lighting! With years of experience in providing outdoor lighting solutions, we are your go-to choice to make sure your pool looks its best.
Our team of experienced professionals can help you create a stunning display around your pool that will turn heads and draw attention. We offer a wide range of lighting options to suit your specific needs and desires, from traditional incandescent lights to modern LED fixtures.
Whether you're looking for subtle or dramatic effects, we have the perfect solution for you. Call us today!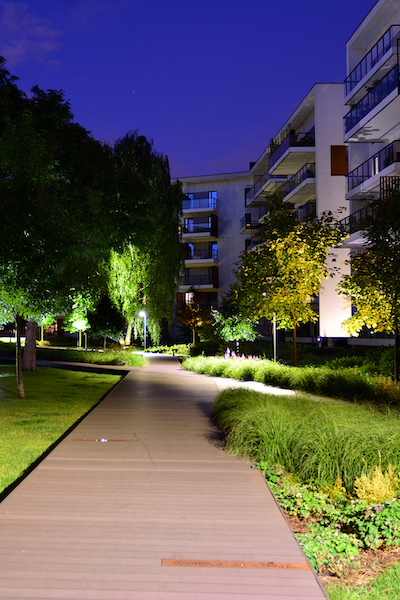 Pool Lighting Design
We understand that proper pool lighting design is essential in order to properly showcase your outdoor haven. Our experienced staff will work with you to design a lighting scheme that enhances the look and feel of your backyard, while being mindful of safety concerns.
When it comes to enhancing the ambiance of a swimming pool, one of the most popular design features is lighting. With so many different types of pool lighting design available, it can be hard to choose which one is right for your home or commercial pool area.
Here are some popular types of pool lighting designs that you may want to consider:
LED Lighting

: LED lights are long-lasting and provide a high quality of lighting. They come in a variety of colors, allowing you to customize the look of your pool area. Additionally, they can be placed in or around your pool for maximum effect.

Color Change Lighting

: Color change lighting is great for adding an exciting touch to any pool design. With this type of lighting, you can program a variety of color changing patterns that will cycle through your pool area for an amazing visual experience.

Fiber Optic Lighting

: Fiber optic lighting is versatile and energy efficient. It provides long lasting illumination and creates beautiful light effects in the water. The lights are usually placed around the perimeter of the pool to give it an extra bit of sparkle and shine.

Submersible Lighting

: Submersible lighting is often used for depth perception in larger pools. They are placed underwater, which makes them ideal for both night swimming and creating a peaceful night time atmosphere around your pool area.
No matter what type of pool lighting design you choose, it will surely help to add a unique and inviting atmosphere to your backyard. At Palmetto Outdoor Lighting, we can make that happen. With the right lighting, you can turn an ordinary pool area into a luxurious oasis of relaxation.
Pool Lighting Installation & Repair
Pool lighting is a great way to enhance the beauty of your pool and its surrounding area. With Palmetto Outdoor Lighting, you get more than just installation and repair services – you also get access to experienced professionals who know how to design the perfect pool lighting system for your needs.
Our team will take into consideration factors such as the size and shape of your pool, personal preference, and safety to create a system that is both aesthetically pleasing and functional. We use only the best products from the leading brands in pool lighting for optimal performance and longevity.
With Palmetto Outdoor Lighting, you can trust that your pool lighting will look great for years to come! Contact us today for more information about our professional Pool Lighting Design services.