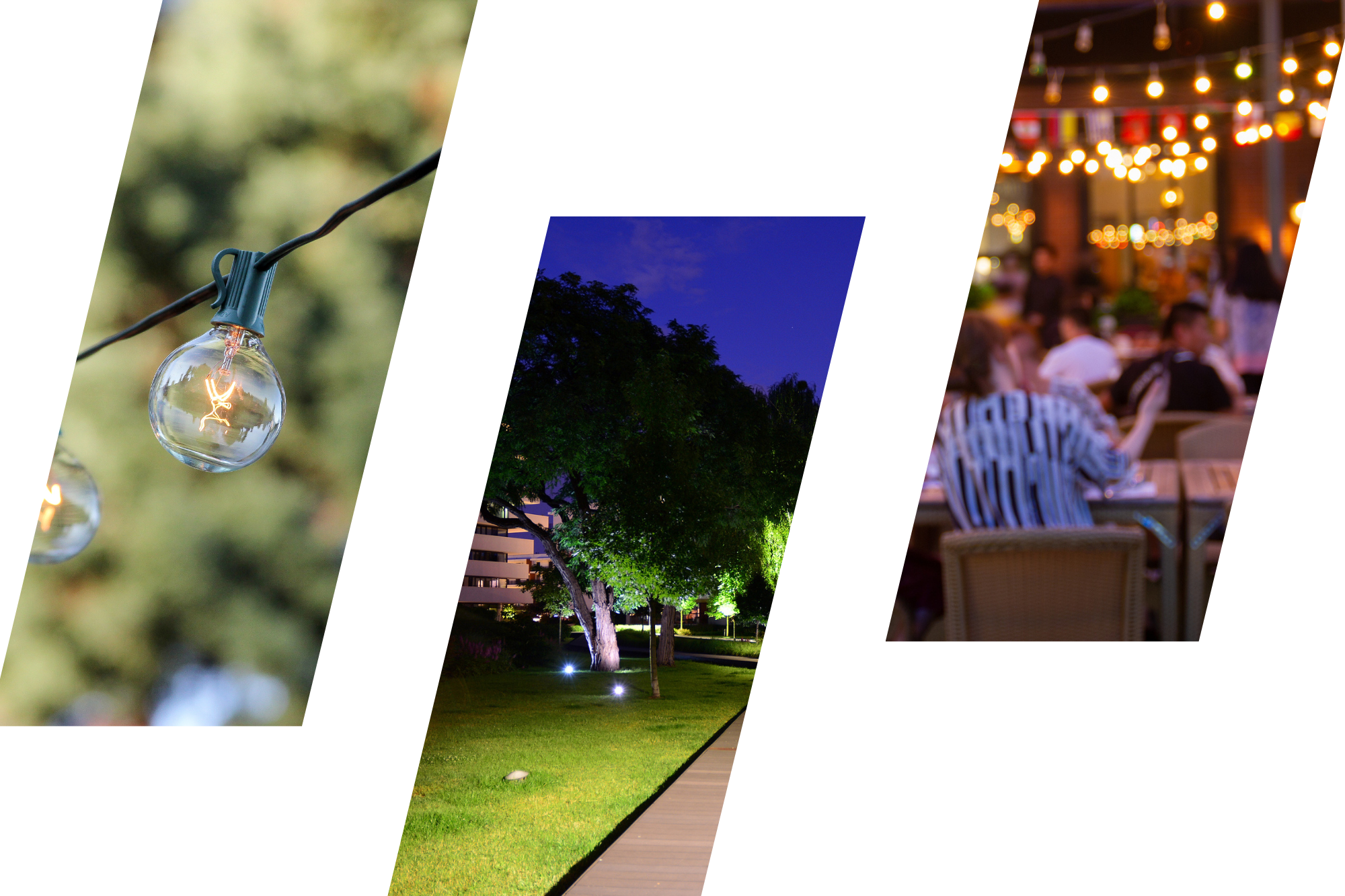 Courtyard lighting is an essential part of any outdoor space. It's not only aesthetically pleasing, but it also serves a functional purpose as well. By illuminating your courtyard and pathways you can create a safe and inviting atmosphere that will be enjoyed by family, friends, and visitors alike.
The primary purpose of courtyard lighting is to provide safety and secrity. Properly lit pathways and corners will help people to navigate the area safely at night, and can also deter potential intruders from entering your property. Additionally, strategically placed lights can highlight features in your courtyard such as sculptures or water fountains that may otherwise be lost in the darkness.
Palmetto Outdoor Lighting is your go-to provider for any of your courtyard lighting needs. Our experienced team offers professional installation, maintenance, and repair services so that you can reach your desired aesthetic goals with ease.
With our years of experience and dedication to customer satisfaction, Palmetto Outdoor Lighting is the perfect choice for all your courtyard lighting needs. Discover why we are the preferred provider in the area. Call us now!
Courtyard Lighting Design
A well-designed courtyard lighting system can bring out the beauty of your outdoor space, creating an inviting atmosphere and unique style. Palmetto Outdoor Lighting specializes in designing and installing custom courtyard lighting systems that provide the perfect combination of functionality, safety, and aesthetics
Types of Courtyard Lighting Designs
When it comes to courtyard lighting design, there are several types and techniques you can consider to create the desired ambiance and functionality. Here are some common types of courtyard lighting designs:
Path Lighting: This type of lighting focuses on illuminating pathways and walkways within the courtyard. It can be achieved using low-level fixtures such as bollard lights or recessed lights along the edges of the paths. Path lighting enhances safety and provides guidance for navigating through the space.
Accent Lighting

: Accent lighting is used to highlight specific architectural features, plants, or focal points in the courtyard. It creates visual interest and draws attention to particular elements. Spotlights, uplights, and well lights are commonly used for accent lighting.

Wall Lighting

: Wall-mounted lights are installed on the walls surrounding the courtyard and provide both functional and decorative illumination. They can be used to create a warm and inviting atmosphere, while also illuminating seating areas or outdoor artwork.

Step Lighting

: If your courtyard has steps or changes in elevation, step lighting is crucial for safety. It involves placing lights along the edges or risers of the steps to ensure visibility and prevent accidents. LED strips or recessed lights are commonly used for this purpose.

Ambient Lighting

: Ambient lighting sets the overall mood and general illumination level in the courtyard. It can be achieved using overhead fixtures like chandeliers, pendant lights, or lanterns suspended from trees or pergolas. Ambient lighting should be adjustable to create different atmospheres for various occasions.

Moonlighting

: This technique involves placing fixtures high above the courtyard to mimic the soft, natural light of the moon. By positioning lights in trees or on elevated structures, you can create a gentle, diffused glow that cascades down onto the courtyard.

Silhouette Lighting

: Silhouette lighting is used to create dramatic effects by placing light sources behind objects or structures. This technique casts intriguing shadows and outlines, adding depth and visual interest to the courtyard. It is commonly used with statues, trees, or architectural elements.

Festoon Lighting

: Festoon lighting involves stringing a series of decorative bulbs across the courtyard, creating a festive and charming atmosphere. It works well for outdoor dining areas, pergolas, or trellises, and adds a touch of whimsy and warmth to the space.
Remember to consider the practical aspects such as energy efficiency, light pollution, and maintenance requirements when designing your courtyard lighting. Additionally, consult with a professional lighting designer or electrician to ensure proper installation and safety compliance.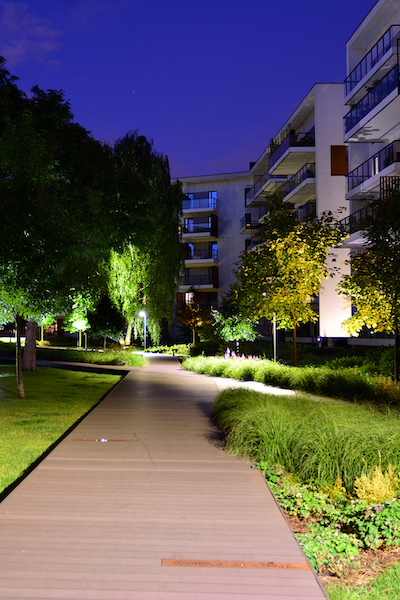 Courtyard Lighting Installation & Repair
Palmetto Outdoor Lighting offers a range of courtyard lighting installation, repair and maintenance services. Our experienced team of professionals provide quality craftsmanship for all your outdoor lighting needs.
Whether you are looking to install a new fixture or upgrade an existing one, we have the expertise to get the job done quickly and efficiently.
Our Courtyard Lighting Services Include:
Installation of outdoor lighting fixtures

Repair and maintenance of existing fixtures

Upgrading of existing installations with new technology

Troubleshooting issues and making repairs as needed

Working with landscape architects to create a custom design for your property

Providing advice on energy efficiency solutions
We provide the highest quality products and services in the industry. Our experienced technicians will ensure that your courtyard lighting installation and repair needs are met quickly and efficiently.
We strive to provide the best customer service, so you can trust us to take care of all your outdoor lighting needs. Contact us today for a free consultation and quote!
Overall, Palmetto Outdoor Lighting is dedicated to providing quality courtyard lighting installation and repair services. We understand that good lighting is essential to enhance the beauty of any outdoor space, and we are committed to helping you achieve your desired aesthetic.
With our expertise and experience in the industry, you can trust us to provide the best service for all your courtyard lighting needs. Contact us today!
Courtyard Lighting Pricing
At Palmetto Outdoor Lighting, we understand that everyone's courtyard lighting needs are different. That's why we make it easy to customize your lighting experience and choose the right price for your budget. Our selection of courtyard lighting includes a variety of options to fit any design or style you're looking for.
Whether you're looking for something subtle, like a single suspended light, or something more dramatic like multiple lights along a walkway, we have the perfect product for you. Our courtyard lighting prices are based on the individual components of each installation so you can control your budget without compromising on quality.
We offer affordable pricing options to make sure you get the best value for your money. Our trained professionals can help you design the perfect lighting plan and provide a detailed quote that fits your budget.
At Palmetto Outdoor Lighting, our goal is to make sure you get the best quality lighting at the most competitive price. We're here to help you find the perfect lighting solution for your home so you can enjoy a beautiful courtyard that's lit up just the way you want it. Contact us today to get started and receive a free quote on your courtyard lighting project. We look forward to helping you create the perfect outdoor space!