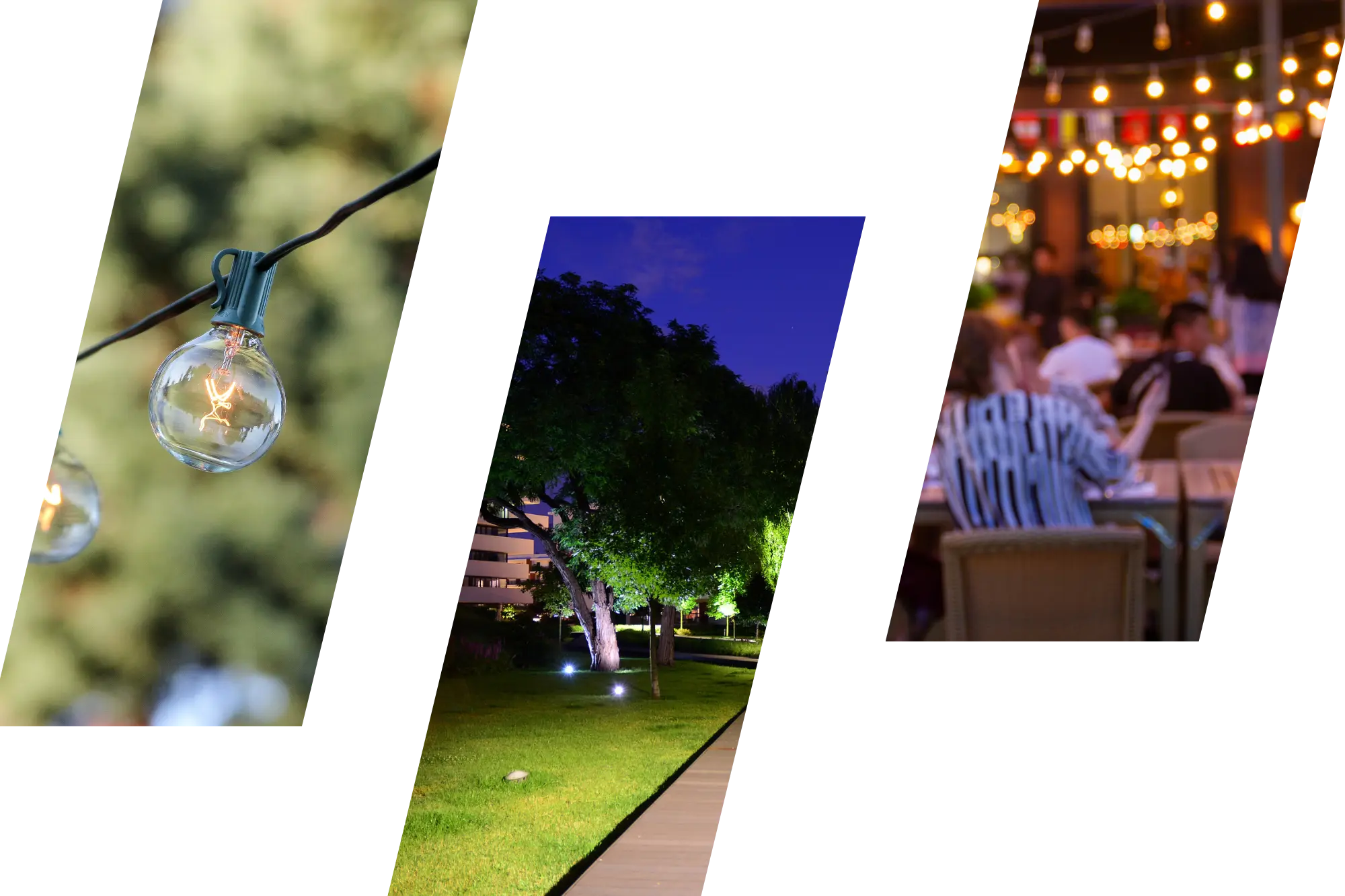 Palmetto Outdoor Lighting is your trusted partner for all your commercial outdoor lighting needs. With our expertise and dedication to excellence, we transform outdoor spaces into captivating environments that enhance safety, security, and aesthetics.
Whether you need lighting solutions for a commercial building, parking lot, pathway, or any other outdoor area, we have you covered.
Types of Commercial Lighting
Sign Lighting: is a type of commercial lighting that is designed specifically to light up signs or illuminated storefronts. These lights are usually placed above or below the sign and can be adjusted in intensity and angle as needed
Motion Sensor: is an energy-saving solution for businesses, allowing them to save money on their electricity bills while still keeping areas well lit when customers need it. This type of lighting utilizes sensors that detect motion and will only turn on when movement is detected.
Area Lighting: can be used to illuminate large areas, such as a parking lot or public park. These lights are typically mounted on poles and are designed to cover a wide area with an even spread of light.
Step Lighting: is great for creating a safe environment for customers, providing visibility along stairways, pathways, and walkways.
Bollard Lighting: is a type of commercial lighting that is designed to provide an attractive aesthetic around buildings and structures. These lights can be used to brighten up pathways or draw attention to certain areas.
Canopy Lighting: is often used in restaurants and other businesses with covered entryways, providing illumination for customers as they enter the building.
LED Pole Lighting: is a modern type of commercial lighting that utilizes LED technology to provide businesses with a cost-effective and energy-efficient lighting solution.
Dusk to Dawn Lighting: provides businesses with security as the lights turn on automatically when it gets dark.
Ingrade Lighting: is designed for use in outdoor areas, providing subtle illumination along walkways and pathways. These lights are usually installed flush with the ground, providing a low-profile lighting solution.
Why Choose Palmetto Outdoor Lighting?
Palmetto Outdoor Lighting brings a unique combination of expertise, experience, and lighting technology to your commercial outdoor lighting project. Our team has been providing quality outdoor lighting solutions for years and we are proud to have satisfied customers in Charlotte, NC and nearby areas.
Below are the reasons why you should choose us:
Expertise and Experience

: With years of experience in the industry, our team of skilled professionals possesses the knowledge and expertise to deliver exceptional outdoor lighting solutions. We understand the unique challenges that commercial properties face and tailor our services to meet your specific requirements.

Customized Solutions

: We believe in the power of customization. Each commercial property is different, and we work closely with our clients to design lighting solutions that perfectly align with their vision, brand identity, and functional needs. Our team pays attention to every detail, ensuring that the final result exceeds expectations.

Energy Efficiency: We prioritize energy efficiency in all our lighting solutions. By incorporating advanced technologies such as LED lighting, motion sensors, and smart controls, we help you reduce your carbon footprint and achieve significant cost savings in the long run.
Safety and Security

: We understand the importance of creating a safe and secure environment for your employees, customers, and visitors. Our lighting designs focus on enhancing visibility, deterring potential intruders, and minimizing hazards, providing peace of mind for everyone on your premises.

Aesthetics and Ambiance

: Outdoor lighting not only serves a functional purpose but also adds beauty and ambiance to your commercial property. Whether you desire a professional and modern look or a warm and inviting atmosphere, we have the creativity and design expertise to bring your vision to life.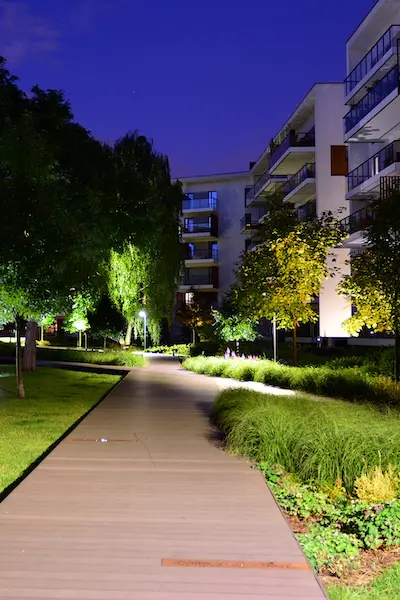 Pricing for Commercial Lighting
The pricing for commercial lighting can vary depending on the type of light, size, brand and the number of lights you plan to purchase. Generally, commercial lighting tends to be more expensive than residential lighting due to its increased durability and higher operating costs. Additionally, commercial lighting often requires specialized installation or wiring that can increase your overall cost.
For example, a basic fluorescent tube with a ballast typically costs around $10-20 per tube while LED tubes cost upwards of $50-100 each for similar quality. High bay fixtures may range anywhere from $40-200 (or more) depending on their wattage rating and output. On top of that, additional components such as dimming controls and occupancy sensors can raise your overall bill by several hundred dollars or more.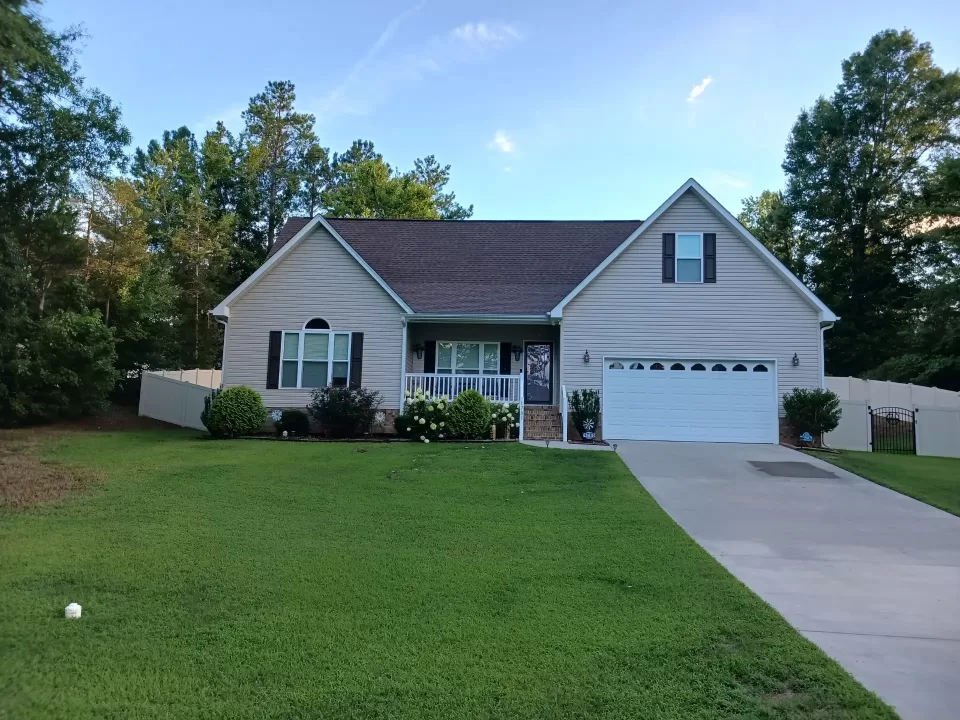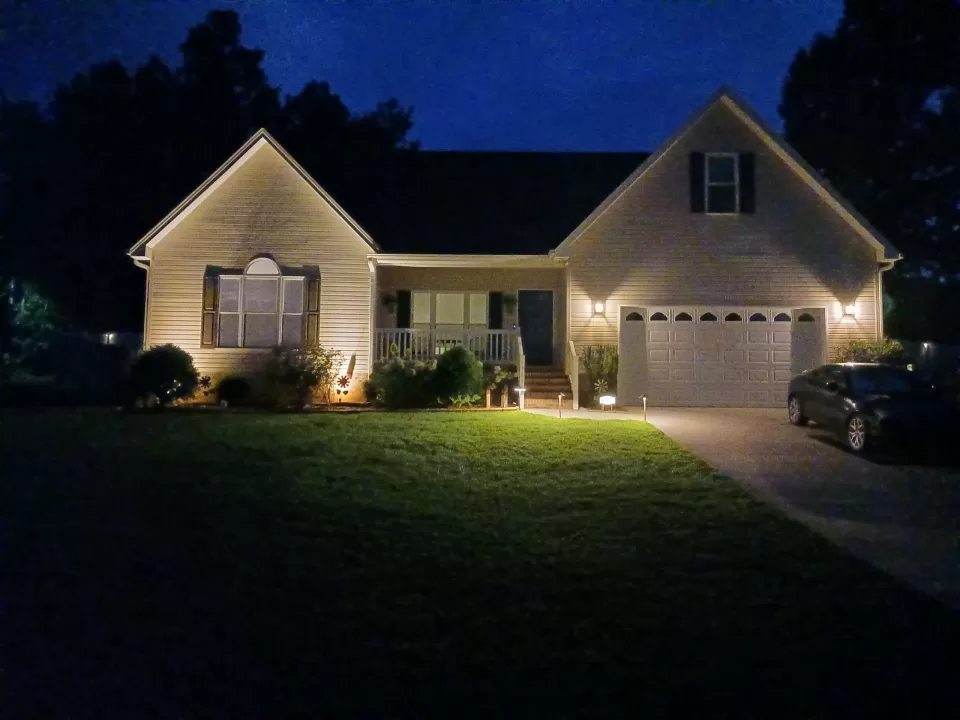 Hover/Touch to View at Night
Our Commercial Lighting Services
Lighting Design

: Our talented team of lighting designers works closely with you to create customized lighting plans that accentuate the architectural features of your commercial property while meeting your specific lighting requirements.

Installation

: We handle the entire installation process, ensuring that every fixture is properly placed and connected. Our technicians adhere to the highest industry standards and use high-quality materials to ensure longevity and reliability.

Maintenance and Repairs

: We offer comprehensive maintenance and repair services to keep your outdoor lighting system operating at its best. Regular maintenance helps extend the lifespan of your fixtures, prevents issues before they arise, and ensures optimal performance.

Upgrades and Retrofits: If you have an existing outdoor lighting system that needs an upgrade or retrofit, we can help. Our team evaluates your current setup and provides cost-effective solutions to improve energy efficiency, functionality, and aesthetics.
Smart Lighting Solutions

: Embrace the power of automation with our smart lighting solutions. We integrate advanced controls and sensors to provide intelligent lighting that adapts to environmental conditions, saves energy, and enhances convenience.
At Palmetto Outdoor Lighting, we are dedicated to exceeding your expectations. Contact us today to discuss your commercial outdoor lighting needs and let us illuminate your space with brilliance and professionalism.