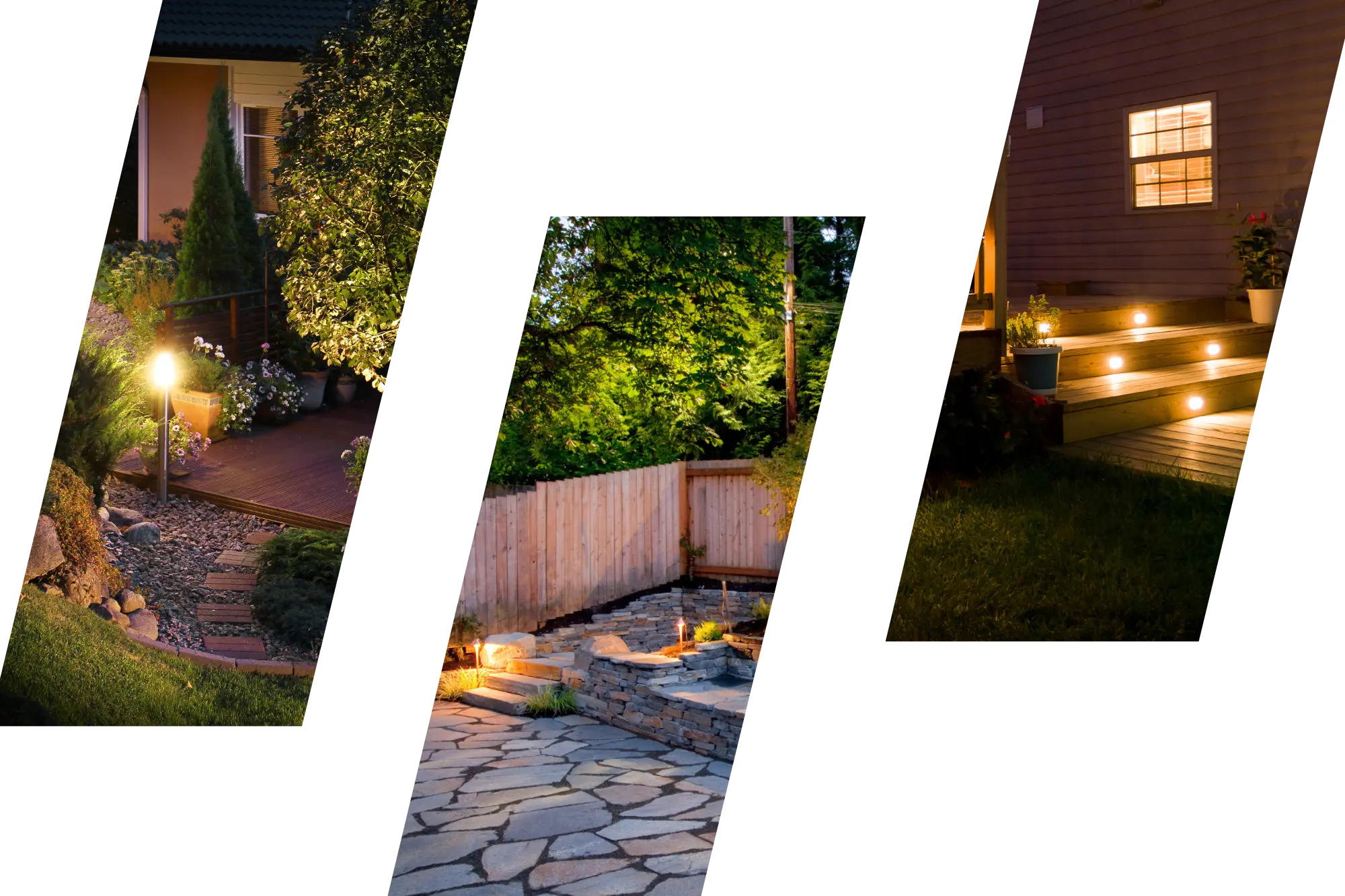 Deck and patio serve as our cozy outdoor oasis, but could be even cozier with the right lighting. The type of outdoor lighting for your deck or patio should depend on the size and layout of your space, as well as the desired mood you want to create. For a romantic, serene atmosphere use soft white LED lights to line your patio walls or hang from outdoor umbrellas. Strings of cafe-style bulbs can hang over an eating area for an inviting feel. If you're looking for a modern look, try wall sconces or spotlights that emphasize architectural features around your deck and patio. Accentuate a focal point such as water fountains, fire pits or BBQ grills with attractive low voltage accent lights.
A professional contractor is needed to perform installation to your deck or patio and the surrounding area. This ensures that the electrical connections are done safely and correctly. Additionally, they should check to see if you need additional receptacles in order to power all your lighting features. Whether you require a commercial or residential installation, the right deck and patio lighting will not only add beauty to your outdoor living area but also ensure safety and security. Palmetto Outdoor Lighting is the right company for you to work with to ensure an expert installation and top-notch customer service. Contact us today for all your deck and patio lighting needs!
Illuminate Your Outdoor Space
Outdoor lighting can be a great way to add beauty, interest, and safety to your outdoor spaces. You can use outdoor lights to highlight walkways, adorn trees and foliage, or create an inviting ambience for entertaining friends and family. Plus, with proper motion-sensor lighting you can keep your home safe from intruders. For a beautiful outdoor space, consider using ambient outdoor lighting. This type of lighting is often used to set the mood with soft yet effective illumination. Create an inviting atmosphere by adding string lights along pathways or around pool areas or patios. Add spotlights near water features such as fountains or ponds to create lovely night time effects. For extra grandeur try lanterns at entrances and steps.
Consider the position of outdoor lights when designing a lighting plan. Uplighting, for example, is great for illuminating trees or tall shrubs. Wall sconces are ideal for entrances and walkways as they provide both decorative accents and practical illumination. Motion-sensor lights can be used near access areas to ensure safety at night. The right outdoor lighting can create a beautiful and inviting atmosphere. Let Palmetto Outdoor Lighting help you design the perfect lighting plan to illuminate your home and make your outdoor spaces shine. Schedule an appointment today!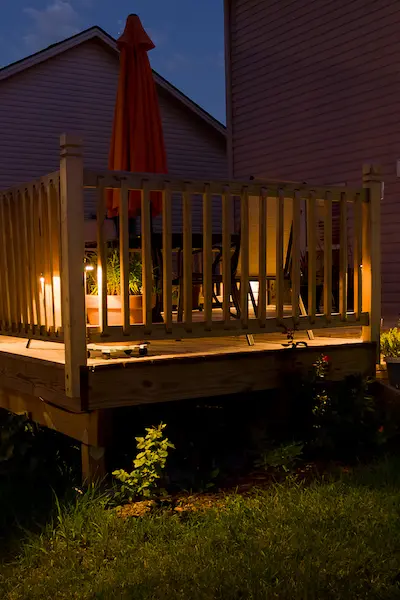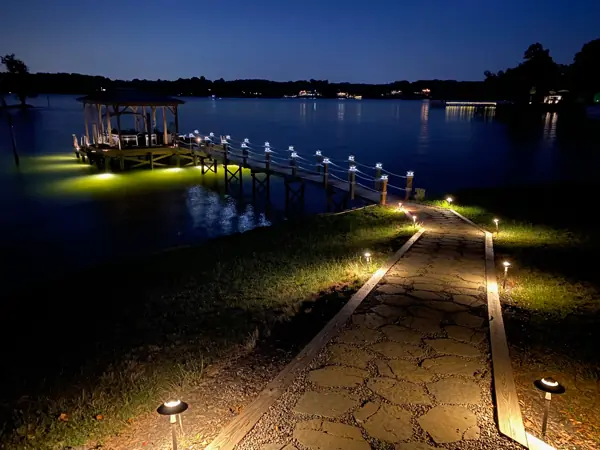 Automation & Low Voltage Lighting
Today, outdoor lighting is more flexible and efficient than ever before with automation and low voltage LED lighting options. Automated lights can be easily programmed to turn on/off at specific times or according to the natural light. This helps you save money by not having to remember to turn your lights off when not in use. Let us help you create a beautiful yet functional area that will save you money while providing safety, security, and style. Contact us today for all your outdoor lighting needs!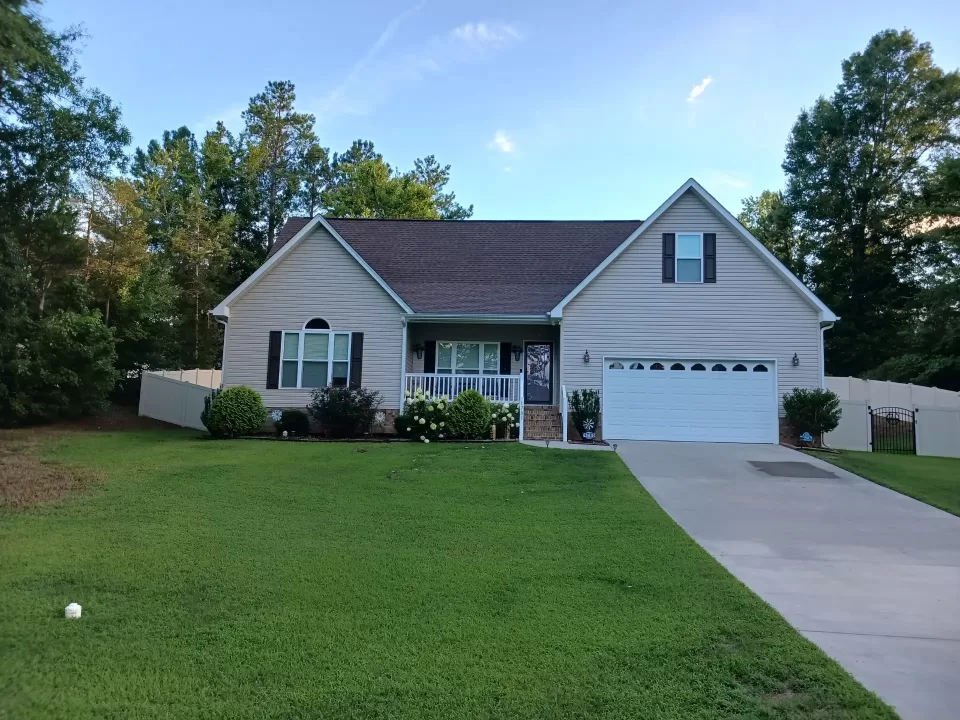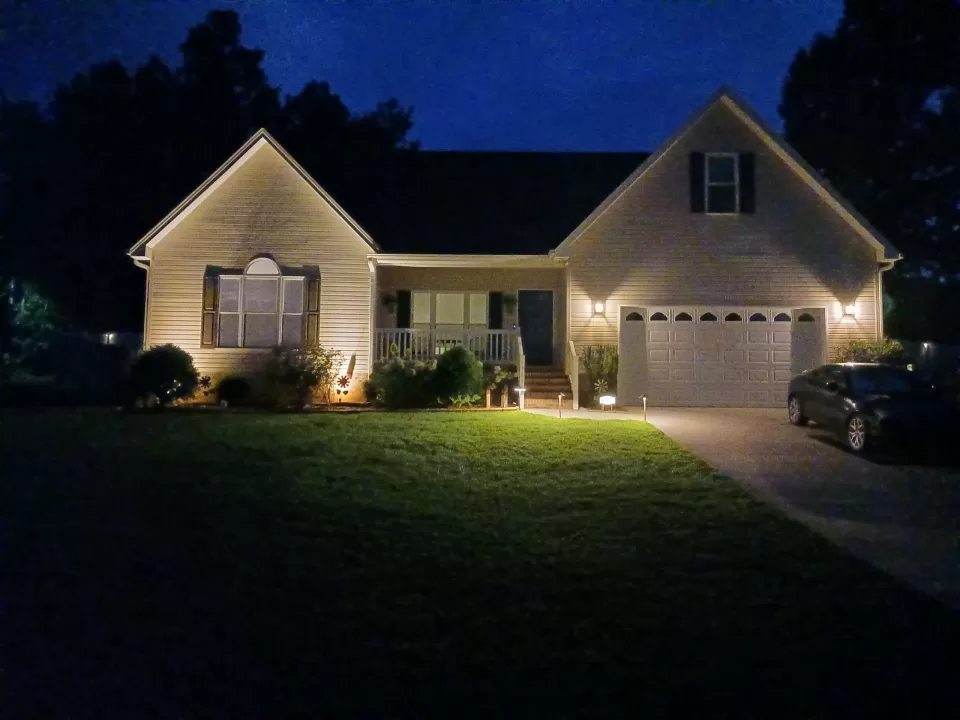 Hover/Touch to View at Night
Adding outdoor lighting to your deck or patio space is a great way to make it inviting and fun. With proper planning, quality materials and expert installation from Palmetto Outdoor Lighting, you'll be sure to have an area that's both stylish and safe. From ambient string lights to motion-sensor spotlights, we have all the solutions you need to light up your outdoor oasis.
Give us a ring for a free consultation and let us help you create the perfect lighting plan for your home.